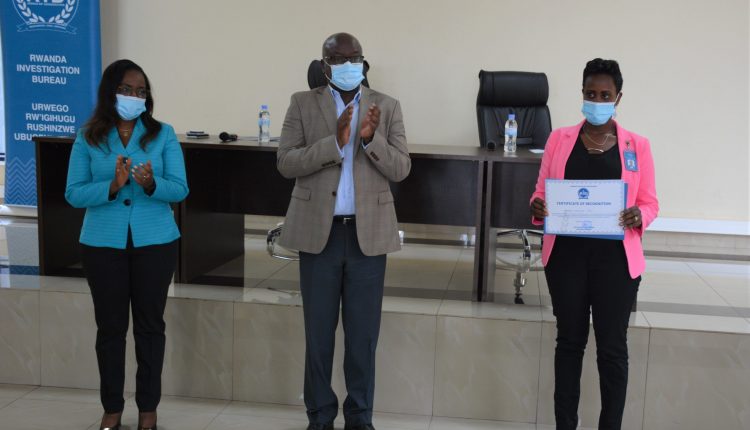 RIB Awards Detectives who Decline Bribes
Rwanda Investigation Bureau (RIB) has began recognizing and awarding officers who reject bribes from suspects. Others proceed with arresting the suspects.
On Friday, 26 RIB officers were awarded for having remained professional and declined taking bribes, instead they arrested those who proposed the bribes.
"What they did is what they are supposed to be doing but since only a few have been courageous enough to refuse and denounce corruption, we decided to reward them to encourage others to do the same," the Secretary-General of RIB, Col. Jeannot Ruhunga, told Taarifa on Friday evening.
The awarding of the officers comes at a time when RIB is confronted with a humongous task of taking on corruption across the country. Graft cases are also reportedly increasing, both big and small, and RIB says it will do whatever it takes to combat the vice.
"We will continue encouraging them (Officers) until denouncing corruption becomes a culture in RIB," Col. Ruhunga said.
One of RIB's areas of investigation includes public fund embezzlement and corruption as the institution seeks to support the implementation of legal instruments and government policies in the area of good governance.
During the awarding ceremony, Col. Ruhunga reminded the officers that corruption is like a virus which when not fought it negatively affects the entire society."
Being awarded should be a motivation for them to denounce more corruption cases and mobilize their colleagues in the fight against corruption…we will be having such event every year and hope to award more investigators next year," he said.
One of the officers who was awarded did not only decline taking bribes several times, but he also denounced his colleague who was had brought him money from a suspect to influence him in one case.
The officer was later tried and sentenced to 7 years in imprison.
The awareness received Smartphones and a certificate of appreciation. The officer who rejected bribes five times also got a laptop and will be sponsored to complete his degree in law.
The institution that is slightly two years old has plans to increase its human resource capacity from the current 900 to 1100 staff.
Meanwhile, Rwanda joined other African countries to commemorate the African Anti-Corruption Day on Saturday, July 11.
The Ombudsman, the Prosecutor General, and the Inspector General in Judiciary attended the synergy of Radio and TV program to discuss fighting corruption "Through Efficient Judicial Systems."
(source:Taarifa)